Text Tutorial:
Items Needed:
Xbox 360
Usb Flash Drive (min. 1g memory.)
Xbox Profile (local or live)
Other things needed:
A brain...
Instructions:
1. Make sure your USB is compatible with your Xbox 360
2. Open up Modio with your USB plugged into your computer

3. Now that you have Modio opened Click on the circle in the
top right corner of Modio.
4. Put the cursor over "Other Tools" which is the last thing
on the right side wait for the next list to open.
5. Click on "Gamer Picture Creator"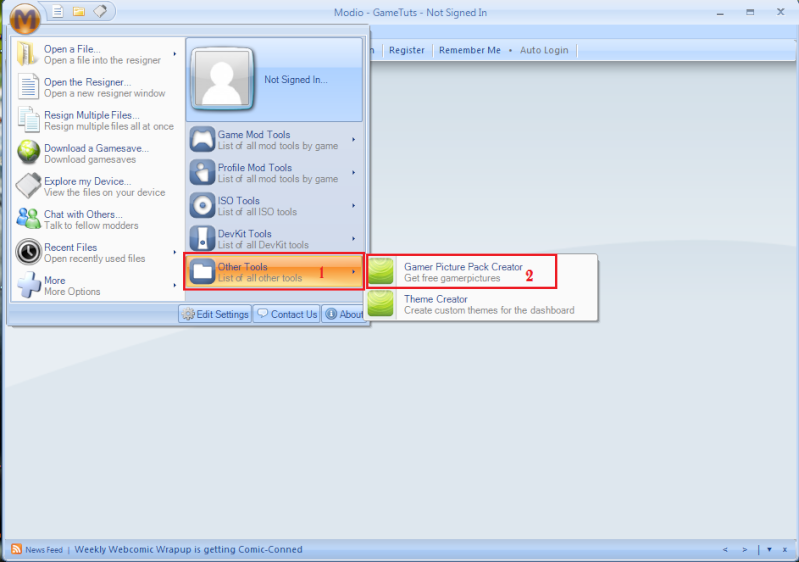 6. Once you have that open search for a game that you want
the Gamer Picture Pack from, I will be searching for Rock
Band gamer pictures to show you as an example.
7. Now that you have found the pack you would like to get,
click on each picture that you would like to have.
8. After selecting each picture that you want, press save pack to
device.
9. Select your USB Flash Drive, and press ok. (Nothing shows
up for me since I do not have any devices in my computer)
10. Put the USB Flash Drive back into your Xbox and you now
have the gamer pictures that you selected for FREE!
ANY comments, questions, or concerns, please feel free to
message me at any time.
Tutorial created by: I Ko Ryan